Today is October 25th, the anniversary of the day I broke up with an ex-boyfriend and tomorrow is the anniversary of the day I finally met my husband in person.  Dates are funny.  Not in a magical way.  Dates are like smells in the memories they invoke.  I remember the day I broke up with my ex-boyfriend distinctly.  It was a Sunday.  We had gone downtown to Chinatown for Dim Sum.  The place he wanted to go was closed for a private party so, we wandered around downtown trying to find a place.  By the time we found a Dim Sum place it was filled with people and there was a line.  He got upset.  Clearly, he had issues that had nothing to do with not getting a pork bao and a chicken foot.  I was upset that he was upset.  We walked back to the car in silence.  Then in the car we started arguing about something or other.  I remember taking off the silver rolling ring he had bought me on a fun trip down to Tijuana to have lunch and buy contraband freon for an old car he was working on, and I threw it at him and said, "Maybe we should just break up!!"  The words hung in the air.  A moment later he turned to me and said, "Okay."  We drove to Canter's where we had soup and cried.
The following year, John, my now husband, and I started talking on line and then on the phone.  He came to visit me for the first time on October 26th.  At the time I was taking part in a documentary about 4 women of size and their lives.  The camera crew came with me to pick John up at LAX.  The moment we saw each other, for the first time, in the flesh, was captured on film.  We showed that snippet of film at our wedding reception.
Today is just another day.  Days lately seem like just another day.  I lost my job with the accounting firm a little over a year ago.  It was a job, I thought I was good at. But everyday I would drive home from there deflated and sad that that was the job I was doing.  It wasn't the people.  Okay, it was one of them.  But it wasn't really the people or the work.  I like accounting.  It just wasn't what I moved to LA to do.  Every day I would drive home in that ridiculous 101 commute wearing grown up clothes and feeling miserable. When I was "let go" I was sad and frustrated and yet I felt an overwhelming sense of relief and freedom.  That is, once I stopped crying.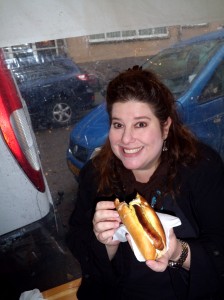 A year ago today I was in Amsterdam.  I had paid for my ticket less than a week before I got "let go."   It was an amazing trip.  I felt inspired and alive when I was there.  When I was home, I continued to feel inspired.  It is an inspiring place.   On this day a year ago I was in a farmer's market with my sister and brother-in-law.  The sausage guys started singing a Mamas and Papas song and called me Mama Cass.
I know it's silly.  Nothing has changed in the year.  I weigh the same as I did last year.  My hair is a bit darker.  Financially, I know I need to work and soon.  But I read an article in the LA Times about unemployment and how a woman applied for a job where there were four openings and 2000 people had submitted applications.  It seems so bleak.  And, worse, I wouldn't want that job.
I have had some great auditions this year.  And, in a sense, it feels like when you are looking at a slot machine and you almost win.  There is that excitement but there are no bells and no money in your pocket.
I remember a long time ago talking to a friend who was unhappy about some things in her life.  I told her, "you have shitty circumstances but you aren't your circumstances!"  That is kind of how I feel.  Only all of my circumstances aren't shitty.  And, all of my situations aren't shitty either.  It really is bits and pieces.  My great husband just came home and I am cooking dinner.  I am fortunate to have a great husband and I am fortunate to have dinner to cook in my apartment.
There is part of me that just knows it isn't time to quit yet.  I know there is a lot of acting and writing left in my future.  I know I will make money doing what I love.