We spent the day yesterday preparing for the Halloween party on the boat.   I brought decorations from Los Angeles and Sima and Ben road their bikes to a friend who is a caterer to get pumpkins.   The pumpkins we kept seeing in the markets were different than the pumpkins we get in the US.   Their friend ordered some for them so we could carve pumpkins.   Then Sima rode her bike to the grocery store for things while Ben washed the outside of the boat.   Meanwhile, I walked over to the Saturday market for supplies.   I decided to make chopped chicken liver.     I bought fresh onions and garlic (I still had some fresh thyme from the week before) at one of the outdoor stands and then walked over to that amazing butcher shop a couple of blocks away.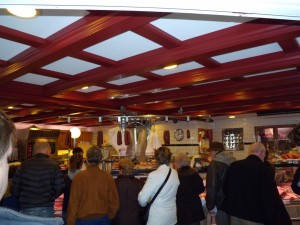 The butcher shop was PACKED with people spilling out the double doors onto the street.   I walked over and realized people were taking numbers.   My number was 80.   When I arrived the number sign was on 47.   So, I waited with all the other people.   Of course, they came by with a tray of some slices of unidentifiable meat log samples.   I obliged and took the one that seemed to not have giant chunks of fat in it.   In hindsight, I wonder if those hunks were cheese.   It was around a half hour wait.   The people were all so friendly.   I had to listen for the beep of the changing number and then look at the number to see where we were as I couldn't understand them when they hollered the numbers.   When it was my turn I walked up to the front and was mesmerized for a moment by all the different things they had in the cases.   The livers weren't on display.   Of all the things, they don't sell chicken fat.   They sell chicken parts. They sell whole chickens. But they don't trim the chickens like we do at home.   So, if I wanted to get chicken fat I would have had to buy chicken and trim it myself.   After the butcher I tried a Le Poulerie (a poultry butcher down the street who might have had chicken fat but was testy that I had bought my liver elsewhere.) He had goose fat.   I even went to a meat stand in the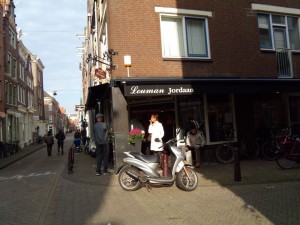 market and asked for chicken fat to no avail.   I will say, the butcher shop I went to smelled so much cleaner and looked so much cleaner than most meat departments in grocery stores at home.   I don't know what kind of laws they have as far as cleanliness but it smelled so fresh in there.   The glass cases were immaculate and the floors were pristine.   A beautiful big marmalade cat sauntered into the shop while we were all waiting.   He weaved in between people's legs.   He came to me for some loving.   Then he hopped up on a bench and sat next to one of the waiting customers.   No one blinked an eye that there was a cat in the butcher shop.
As I was walking back down through the Saturday market to head back to the boat, who should I see walking in the crowd towards me?   Yes, it was Lester the Molester.   He was so excited to see me.   He smiled a big smile at me and started to speak to me.   The market was very busy and he was pushing his bike through the crowds as he had been doing last week when we were at the tram stop when he kept touching me.   The crowds of people worked to my benefit as the tide of people pushed him farther past me.   I took the opportunity to pick up my pace.   I looked back and saw he had managed to maneuver his bike in the crowd and was following me.   Again, the big crowd of tall Dutch people worked in my favor as I slipped into someone's booth and snuck out the back side.   I walked back up the back of the market and scurried back into the crowd.   That had me walking behind him.   He never found me after that.   I am sure he is just a harmless old man.   Who rubbed me the wrong way, both literally and figuratively.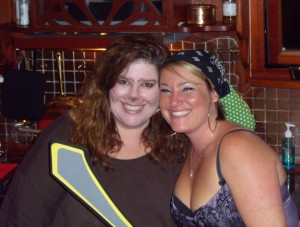 I decided to be a cat for Halloween.   It didn't take a lot of effort.   I gave myself whiskers and an upside down triangle nose.   Sima and Ben were a pirate couple.   Arrrrr. People started arriving around 9p.   Sima and Ben have some really lovely friends.   One group of their friends are French.   Really wonderful people!   I have so enjoyed spending time with them this trip.   Last night was no exception.   At one point last night it had gotten warm on the boat so I was sitting outside on the landing with a couple of people when more people arrived.   This woman was standing above me when I feel something heavy hit my thigh.   Then I heard a thud and then a splash.   Yes, she had dropped her keys.   First they hit me, then the boat step and then they splashed into the canal.   That is it for those keys.   They are gone forever.   She had just locked her bike up across the street and her house key was on the ring as well. She was much less upset than one would imagine.
Everyone was standing around the table eating when I walked in to use the restroom.   I was standing there in the bathroom when I realized my hair was moving.   I had a big brown spider climbing down the side of my hair.   It wasn't a Halloween prank. It was real!   I didn't scream.   I didn't want to make a scene. I shook my head but then didn't see where he went.   So, I came out of the bathroom and got Sima's attention.   Both she and Ben came over and checked me for the spider.   We couldn't find him.   For a moment, I thought maybe is was the great Dommelsch beer I had been drinking and that my eyes were playing tricks on me. I went back to do what I has intended on doing and there he was sitting on the counter blending into the stained wood.   I sent him away…far, far away.
Some of the women who came to the party last night were from Finland. They brought some licorice liquor.   I am not a fan of licorice but it seemed impolite to not oblige them and take the glass.   The liquid was black and syrupy and the licorice smell was as bit noxious.   Someone else obviously didn't like it either and left it on the storage box on the side of the boat next to where I had sat back down with a wonderful French woman.   Then a very nice Dutch man who works with Ben stepped out onto the edge of the boat.   As he came out of the door his coat caught the edge of the glass filled with the black sticky liquid.   It was a slow motion moment where there was nothing I could do. There was no where to go as the liquor spilled down onto me and my coat and my coat pocket.   For the rest of the night I smelled licorice and the side of my coat was sticky at first and then it just got stiff.   I don't know that my coat will ever recover from this trip.
Around 1:30a   the party started to wind down.   It didn't mean people were done partying though.   They were just done partying here.   Everyone was going to go to a bar called Mini Bar.   It's a bar where you get your own mini fridge filled with mini bottles of different liquor.   You pay for what you drink.   For those who know me, I love mini things.   Mini is a good marketing tool if you want me to purchase something.   Last night, however, the pull of mini wasn't strong enough to make me want to go out.   I had had a really great evening filled with really good conversation and some great beers and snacks.   I didn't need to go out and drink more.   I stayed behind and cleaned up the boat a bit and washed my face and fed the cat.   It was a welcome time alone for the hour and a half until Sima and Ben got back.   Then we hung out together and chatted about the evening and snacked on some of the leftovers.   Again, I found myself going to bed at 3:30 in the morning.
Today we had tentative plans to maybe go to the zoo.   It's a bit cold and rainy and blustery so I am not sure what we will be doing.   I have been so lucky with the weather here.   They say that October is the rainiest month in Amsterdam.   This trip I have been fortunate to only have had a little rain.   Mostly it has been hazy and cloudy with patches of sun and blue sky.   I can't wait to process all my digital photos and share them.   The sky here seems so different than at home.   I know it's the same universe but the way the clouds patch the sky and the hue of the blue just doesn't feel like Los Angeles.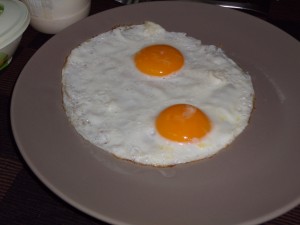 We had a lovely breakfast of heavy dark bread I bought at the outdoor market yesterday and eggs.   I have never seen a yolk like this.   The eggs look just like eggs we get in the states but the yolks are bright orange.   I assume it is from the chicken's feed.   Like most things I have eaten here in Holland the taste is clean and fresh.   We toasted some of the pumpkin seeds from one of the carved pumpkins.   Now Sima and Ben are making an apple pie with the apples that didn't get   eaten last night.   It smells so nice in here and it's warm which is a lovely comparison to the cold and gloomy rain outside
Tonight we are thinking of going back to the great Belgian restaurant and then possibly to an Improv show in the Leidseplein.   Tomorrow Sima is going to do my hair.   Then Tuesday morning I am hoping to get on my flight with my stand by ticket and head home.