I know, I know.   Where have I been?   A friend called me the other day and said, "Do you realize your last blog entry was October 26, 2010!?"   Yes, I know.   I know.
John and I used to have annual passes to Disneyland.   We would go all the time.   On our first trip we stayed down in Anaheim for a couple of days and spent a lot of time at both Disney and California Adventure.   Having an annual pass gave us the opportunity to go for a couple of hours on a Saturday night just for coffee and the parade and the fabulous people watching that you can only find at Disney, without the pressure of having to get on a ride or making every minute count like you do when you save up and go once every couple of years.   So, on our first trip to California Adventure we enjoyed everything we could together.   I am a bit of chicken when it comes to rides.   Not just because I'm afraid of the ride but because of fitting.   Yes, there are some rides that just won't accommodate my ample rear end.   (Years ago, I had an experience at Universal Studios where I didn't fit in the seat on a ride.   I managed to get the seatbelt around me but clearly I didn't fit in the seat.   The ride took off and I held on for my life during the whole thing.   It scared the crap out of me.   Really, did I want to be a headline?   "Fat woman plunges to her death on a kiddy ride at Universal…Film at 11!")   So, even if I had a desire to go on California Screamin', the roller coaster at California Adventure, it is unlikely I would ever attempt to even get into the seat.   What if I didn't fit?   What if the alarm didn't go off when the belt didn't go around me?   Did I really want to die at Disney?   Surely, if I died they would compensate John quietly as only Disney can…     I decided to be a gamer and get on the Ferris wheel at California Adventure.   How scary could it be?
I was feeling brave so I said, "let's go in one that slides."   Here's how it went. We get in the bucket.   I am feeling fine.   I am sitting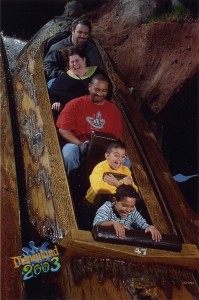 across from John.   I have a water bottle next to me on the seat.   We start to move…slowly.   I feel my heart starting to pound and my hands starting to sweat.   I looked around for something to hold onto.   There was nothing.   I pushed my fingers through the small holes of the cage.   My eyes were wide.   I looked at John terrified…pleading.   Then as we started to rise I said in a shrill voice, "This may not have been such a good idea!!"   Then my water bottle fell over.   John calmly said, "Honey, we are going to slide now."   At that moment the bucket slid backwards and we started to swing. I started to shriek and scream like only someone in a horror movie could.   It was a lifetime until we finished the revolution.   They stopped the ride and let us off.   As I stepped off I said to John, "Do you think they know it was me?"   I am pretty sure they have a picture of me in the operator's box with a big red circle with a line through my face.   For full disclosure, they have a picture like that of me over at Splash Mountain at Disneyland too.
Why bring up the Wheel of Death now?   Because lately that's a bit how life feels.   Not bad.   Nothing that's going to kill me.   Definitely some excitement and some fear and some joy and some uncertainty all wrapped up with a "Have Disney Day" smile.