Life has been busy for an unemployed actor and writer in Los Angeles.   It has been a reflective time as well.   Maybe it's the holidays coming.   Maybe it's the end of the year.   Maybe it's being unemployed.   Maybe it's because I just don't know what's next.   I know I want to work.   I know I want to be a working actor.   I know I would love to sell a show.   I have a GREAT idea for a movie.   My head has just been so busy.   I think about writing everyday and then I just don't.   Are there blog rules?   Will I lose my right to blog?   I kept a journal for years and years.   I started when I was in Junior High and kept it up.   The difference is with a journal so much is so private!   I would hate for someone to find them and know I had a crush on Scott Baio…
In the past couple of weeks I have had a wonderful visit with a friend from Buffalo.   We met a lifetime ago on the internet.   We both had dated the same guy.   For me it was a long distance relationship and for her it was a one-time local date.   It brought us together and we have been friends since.   I was her maid of honor in Vegas years after we met.   I am very fortunate to have a life long friend in her.  
We went to Vegas for a couple of days.   We stayed at New York New York.   Yeah, I wouldn't recommend it.   The people on the roller coaster screaming outside of our hotel room all day and into the night was an added complication I hadn't considered.   Also, having housekeeping finish cleaning our room and leave behind someone's false eyelash in our bathroom was really disgusting.   My poor friend thought it was a centipede at first and screamed. We did go see Penn and Teller at the Rio.   As always it was an exceptional show!   They are brilliant!!
I will be going back to Vegas in a little over a week.   I will be staying at the Mandalay Bay.   That is my hotel of choice when in Vegas.   Although, I am looking forward to staying at Aria in the City Center.   We drove through the City Center with some friends when I was just there and it looks amazing.   I want my world to smell like the Mandalay Bay.   I don't know what that scent is but I love it. I did have a poor experience there one time.   But the last time was extraordinary.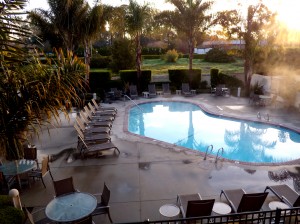 I also have stayed at both the Best Western and the Holiday Inn in Goleta, CA this past week.   I will say they both have really good points and some adequate points.   There is really nothing horrible about either of them.   If those hotels were anywhere else the rate would be half what it is here.   But because it is a freeway exit away from Santa Barbara you over pay for the privilege.   The Best Western has a flat screen TV in the room and really comfortable bed.   But the toilet is awkward to use.   I don't think it is just because of my size either.   I just think it is situated in an awkward place in the bathroom.   And, there was a mosquito hawk in the bathroom.   Why do bugs always show up when your naked?   It's like they know you are completely vulnerable so it gives them a fighting chance to not get squished.   Best Western also offers a "complimentary" breakfast that comes with the price of admission.   If you are into low-budget carbs for breakfast it's great.   For me the sausages and eggs were very unappealing.   The Holiday Inn doesn't offer breakfast but they do have a coffee shop on the premises.   If you are looking for breakfast in the Santa Barbara area go to The Mesa Cafe and have a Bloody Mary and the best corned beef hash you will EVER have in your life.   (It is real corned beef…not the Alpo-like stuff from the can.)   Neither hotel has an elevator so if mobility is an issue the bottom floors make the most sense.   For what they are I can recommend both for a place to sleep and I agree with Priceline.com that they are both 2 1/2 stars.
I had a wonderful time visiting with my sister and her husband who came in from Amsterdam along with my our brothers and sister.   We celebrated my father's birthday.   It was a wonderful time.   As always it was too short a visit.   But a great visit nonetheless. (I love that word…nonetheless.   I love that it's three words in one. It always feels like it is misspelled but isn't.)   We went for sushi in Goleta at a small place called Sushi Teri.   Not bad.   A lot of sake and beer was consumed.   I am not keen on a lot of sushi offerings but I can do some things.   I also am not a fan of Krab.   For me, spicy tuna is nice middle ground for sea urchin or plastik krab with mayo or icky things with tentacles.   We were a big crowd and a bit loud.   It definitely was a celebration.   Then it was back to the house for a back yard bonfire and great conversation.   Then I went back to the Holiday Inn and slept like a baby.
So, now I continue to reflect on what's next.   We went to Canter's for dinner last night…again.   There was a homeless man outside with his Weimeraner puppy.   I brought him half my sandwich and bought him a danish from the bakery.   He was so appreciative and kind.   His dog was so sweet.   I never forget how fortunate I am to live the life I live.   Certainly meeting him and his dog Sadie is a nudge towards not forgetting.