Maybe it's because everything is packed together and everything is small but it seems there is no such thing as personal space here.   When we had dinner at Tabac the other night.   We sat at the end of the bar as the 5 tables in the restaurant were over packed with other diners.   It was the perfect spot for me, I thought.   Since I was at the end of the bar and there was a table a couple of feet behind me I figured I would be out of the way of the other people as well as the wait staff.   But like I said, there is no such thing as personal space in Amsterdam.   For part of our meal, a man stood nearly leaning against me drinking a beer.   Sure, the restaurant is tiny and it was busy.   There just isn't a consideration that he shouldn't have been leaning on me.   When he finished his beer he literally put his glass down next to my dinner plate on the bar.   I said to Ben, "Really!?"   He just smiled and moved the man's glass to the inside edge of the bar.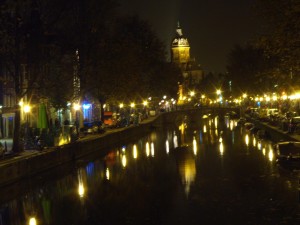 The other night we were walking near the Amstel to go to the Italian restaurant.   It was a lovely night.   It was Thursday so it was late night shopping here in Amsterdam.   Most of the stores usually close between 5p and 6p but on Thursday they are open until 9p.   So, the streets were thick with shoppers and tourists and people getting off work.   Rather than say excuse me or step into the street to avoid me a man literally walked into me hard from behind, grabbed me, gave me a bit of a rub and a squeeze as he walked by.   My little purse was up under my coat so it wasn't like he was a thief.   It was a pretty obvious what he was doing.   The funny thing about it was he was in a very nice suit.   As I have said, I am definitely the largest person I have seen here so maybe I am like steak to a starving person.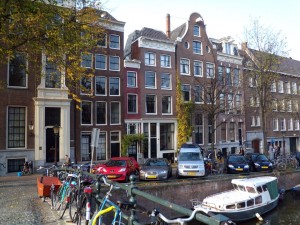 Yesterday, I spent the day walking around the city while Sima worked.   It was so lovely.   I saw the smallest home in Amsterdam.   I was on a search for a yarn store so I walked through parts of the Jordaan I hadn't yet seen.   I found myself in a little square.   I sat on a bench and people watched for a little while.   A walking tour came by so I cocked my ear towards them and listened.   That is how I knew about the smallest home.
I sat across the street from Sima's salon at a little cafe called Festina Lente and had sparkling water and watched the world go by.   When Sima got off work we went back over to Festina Lente and had a beer and bread with dip.   Can you smell the garlic?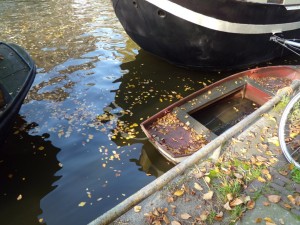 Wow.   It was this beautiful crusty bread served with garlic aioli, sun dried tomato pesto, and an olive tapenade.   Then we walked over to a friend's house.   They live in a beautiful restored building that was originally a sweets factory.
Later in the evening we met Ben over at some other friends.   As we were walking and walking and walking I was again very grateful that John and I started walking weeks before I came here.   The practice has made all the difference in the world.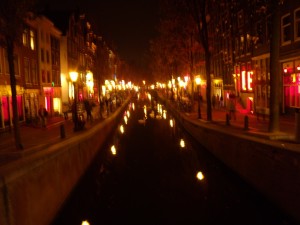 Around 11:30 we walked over to the Red Light District.   What a fascinating place.   All kinds of women in the windows.   For 50 Euro you can have the woman of your choice.   Some of the women were very beautiful.   Some, well, not so much.   Black women, white women, asian women, homely women, blond women, brunettes, red heads, some with glasses, some smoking.   Then there are the windows that have the blue lights.   The blue lights indicate they are transexual.   So, you have these beautiful women in tiny lingerie with outrageous figures busting out of their bras and a penis outline under their g-string.   We walked around for hours.   You aren't allowed to take pictures of the women so I tried taking some long exposure images with my little camera of some of the streets.
I have much to do to get ready for tonight's Halloween party.   Will post details and pictures tomorrow.