As many of you who know me know, I am a picky eater.   Don't get me wrong, if I am eating something I like, I am not shy about eating. However, if I can't readily identify the food I won't eat it.   The same goes for if I can identify it too well, then, I have a difficult time eating it.   I was a vegetarian for many, many years.   John and I laugh about my saying that I am "only one bad piece of bacon away from being a vegetarian" again.   John doesn't think there is such a thing as a bad piece of bacon.   I mostly agree.   But wow, there are some other things that could make me run screaming towards being a fruitarian.   After today, it is a miracle I haven't become an oxygenarian.
We had a lazy Saturday morning.   It was a cold and rainy day.   We walked over to the Saturday outdoor market a couple of blocks away.   Sima had been telling me I had to have one of the sausages from one of the vendors.   I wasn't that keen on the idea.  
There is a whole lot wrong about that for me.   Besides the sausage which is filled with, thankfully, unidentifable parts, there is also the issue of "street vendor."   But we got there and I figured I had to at least try.   There were two guys behind the stand.   They had a giant skillet on the fire.   It reminded me a bit of a paella pan but 5 times the size.   On it they had sausages browning…big whitish sausages and sliced meat pork and sauerkraut.   They take a nice hard-on-the-outside-soft-on-the-inside roll that is warm.   They slice it down the middle and put some hot sauerkraut on it.   Then they take a large sausage and put it on top.   They have mayo and mustard to put on them.   Ben ordered and then Sima ordered.   When it was my turn to tell him what I wanted one of the guys looked at me and said, "Mama Cass!" Then they both broke into song, "All the leaves are brown and the sky is gray…California Dreaming…" Yeah, it was a moment.   And, it wasn't like they were trying to be offensive or rude in anyway.   I could have said, "I played Mama Cass in a movie called My Dinner with Jimi.   But the moment was fast and then it was gone.   Mostly.  
They kept singing while we sat there eating on a bench. I pointed to the sausage I wanted…the one that seemed the most "well done."   He said, "that's a small one."   I was glad I got a small one.   It was tasty but after I was around 2/3 of the way through I just couldn't eat any more.   The parts of it that made me not want to eat it are probably the exact reasons why people eat them.   The hard snap of the casing, the smell of the meat, the richness.   I couldn't take another bite.   I am very glad I had the experience.   I wouldn't be sad if I didn't eat one again.
The fruit and vegetable stands were beautiful.  
The cheese stands are filled with all kinds of goat cheeses and Goudas.   The smell accosts you as you approach.   The fish stands are also a site to see.   Being on the Atlantic there are a lot of flat fish unlike fish we see on the Pacific.   The meat stands are also fascinating with parts I haven't seen since I was in phsyiology class.
I was going to make a stew so I bought wonderful things.   All farm fresh ingredients: mushrooms, potatoes, fresh thyme, carrots with the greens and onions.   We bought a big heavy light pumpernickel bread.   I am sure I will dream about that bread for the rest of my life.   It was the end of the day at the market and I hadn't seen any beef I was interested in purchasing.   Ben and Sima knew of a butcher so walked a couple of blocks.   Unfortunately, the butcher shop had just closed.   I understand that when a store is closed it is inappropriate to approach the doors.   Just walk away and cut your losses. However, the owner, a big, impressive older blond man, saw me look in and opened up the side door and ushered us in.   As soon as we crossed the threshold a woman shoved a plate of big slices of liverwurst at us offering us a sample.   I politely declined. The shop was quite lovely…for a butcher shop.   All glass with marble counter tops for them to cut the meats.   The floors were tiled.   And, it was CLEAN.   Very nice!   He asked what I wanted and I told him beef for stew.   Over the counter where he was cutting meat were logs of different kinds of salami/sausagy things.   He had just cut a small piece of meat he had on the counter for me when he reached up and pulled down a hung of what appeared to be a hard salami.   He cut the thing down the middle and handed a large piece to me and then a large piece to Sima.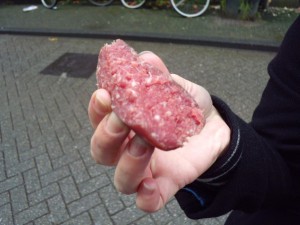 On closer inspection it looked like a hard salami that was never cooked.   The outside was firm but the inside was like raw hamburger.   I am sure I had eyes the size of saucers as I looked at him like, "you don't think I am going to eat this do you?!" He smiled and said, "EAT!   It's beef."   So, I took a deep breath and took a bite.   Yup, it was beef.   Raw beef.   It actually tasted a bit like summer sausage that wasn't cooked.   I looked at Sima, who like me, has some issues with identifiable food.   I said quietly to her, "Don't make a face…just keep smiling and take a bite."   The butcher had gone to the back and then returned with a large piece of what I assume was chuck with the bones in and cut stew pieces for me.   Then he reaches up and grabbed another meat log of some kind and sliced off a couple of hunks of something else for us to try.   So, now I have a bag of beef for stew, a huge piece of raw summer sausage and now he is handing me this new piece of something.   It was like a cross between bologna and ham.   It was warm and had the appearance as if it had been browned in a pan.   It was actually okay.   But really I felt like I had had my share of meat products to last a lifetime at that point.   The experience of it was extraordinary.   The kindness and generosity is a great memory.
It rained a lot yesterday so on the way back from the market we decided to stop at a little cafe and sit outside under the awning and watch as they took down the market and cleaned the streets.   Ben walked back to boat to drop off our groceries. Sima and I spent time talking to a lovely woman who was visiting here from England with her niece and sister.   After two coffees I switched to beer.   They had the beer from the Brouwerg IJ which made it especially nice and memorable.
After a dinner of stew we decided to go to a party.   Some of Sima and Ben's friends were going to be there.   We walked and then took a tram.   It was nice to see a different neighborhood.   The flat where the out of town friends were staying was fabulous.   It was a diverse group of people. Again, I got to experience Dutch stairs.   Ohh, and the smallest bathroom outside of an airplane I have ever been in.   I didn't take a picture of the bathroom.   I should have.   I did catch a picture of the stairs.   I don't think the pictures do justice to the intensity of the stairs.   You don't get the full sense of the steepness or the curve or the shallow footing.
Today, Sunday, it is quite cold outside with patches of sun peaking through the clouds.   We had thought about going to the zoo but I think we are going to wander some neighborhoods and go back down to The Dam.